Anna Smith, President/Owner
Better Choice Staffing Ltd. was founded by Anna Smith after years of experience as a staffing-industry director and manager, working for some of the continent's top employment firms. The business grows out of Anna's passion for finding the right match between employee and employer. Anna is committed to providing professional service with a sincere personal touch. Aside from Anna's recruitment expertise, clients continue to work with her as they know the service being provided is customized to their specific needs.
"Who needs a cookie cutter solution from a standard employment agency when I have been fortunate enough to have the best team working with me to supply businesses excellent service from Victoria's only 100% locally owned and operated employment agency incorporated directly from right here in beautiful Victoria, B.C."
---
Shannon Colman, Staffing Consultant
With a recruitment background that includes hiring and coordinating staff for one of England's most prestigious sports venues, Shannon's love of travel brought her to Victoria, where she finds fulfillment in helping locals and newcomers find meaningful employment. Shannon enjoys meeting people from all walks of life and aspires to help every candidate she meets get closer to their individual career goals. We are fortunate to have Shannon on our team!
---
Sylvie Micheals, Office Manager
From her 11 years in Customer Service, Retail and Staff Management, Sylvie brings a professional yet genuine and approachable personality to the team. A seasoned veteran in interacting with the public, creating positive experiences for clients and candidates alike is what Sylvie enjoys most. Sylvie is also our resident computer tech (geek).
---
Taylor Ostergard, Office Administrator
Taylor Ostergard's friendly face and outgoing personality will be first to greet you when you walk through our doors! Taylor  enjoys working with people and assisting in any way she can to bridge job seekers with local employers. Currently enrolled in a Business Degree program with a focus on Human Resources at Camosun College, Taylor looks forward to putting her experience and strong organizational skills to the test at Better Choice Staffing.
---
Sarah Hein, Office Administrator
Maddie, Current Head of Security and Office Morale Support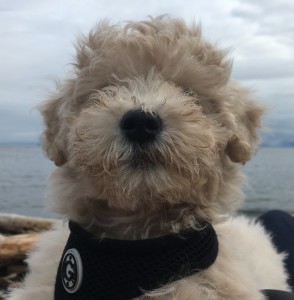 Tank, Former Head of Security