Anna Smith – President/Owner
Better Choice Staffing Ltd. was founded by Anna Smith after years of experience as a staffing industry director and manager, working for some of the continent's top employment firms. The business grows out of Anna's passion for finding the right match between employee and employer. Anna is committed to providing professional service with a sincere personal touch. Aside from Anna's recruitment expertise, clients continue to work with her as they know the service being provided is customized to their specific needs.
"Who needs a cookie cutter solution from a standard employment agency when I have been fortunate enough to have the best team working with me to supply businesses excellent service from Victoria's only 100% locally owned and operated employment agency."
---
Shannon Colman, CPHR – Staffing Consultant
Having started her career in HR & recruitment in London, UK, Shannon's love of travel brought her to Victoria in early 2017. An expat fully aware of the challenges Victoria's job market can pose, Shannon enjoys meeting people from all walks of life and aspires to help every candidate she meets get closer to their individual career goals. From newcomers to Canada, to recent graduates looking to launch their career, to experienced professionals looking for a career change, Shannon has linked numerous individuals with gainful opportunities.
---
Sylvie Micheals – Office Manager
With a background in retail and staff management in Vancouver and Victoria, Sylvie understands the importance of having the right staff in place in order to run a successful business. Sylvie's genuine and approachable personality, combined with her understanding of business' needs, makes both the clients and candidates she works with feel confident they are in good hands. A seasoned veteran in interacting with the public, creating positive experiences for customers is what Sylvie enjoys most.
---
Sarah Hein – Office Administrator
As your first point of contact when you walk through our doors, Sarah's warm and easy-going personality will instantly make you feel welcome. A former ESL teacher in Victoria, Sarah enjoys meeting people from all around the world and hopes to be a source of understanding for those needing assistance in the city's job market. Whether you are a business owner or a job-seeker using an employment agency for the first time, she looks forward to helping you get started with our services. To the delight of the rest of the team, Sarah is also the office's baking queen!
---
Maddie, Current Head of Security and Office Morale Support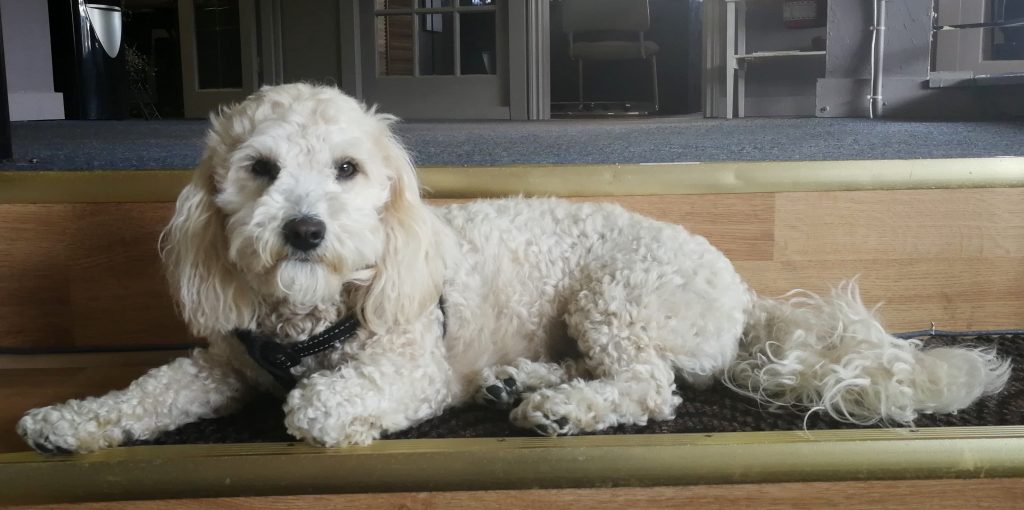 Tank, Former Head of Security